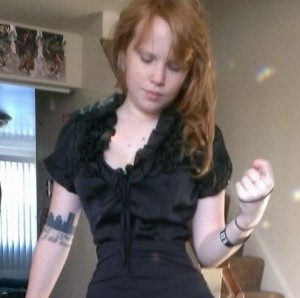 Professor Falco invited Susan to join the project when he learned she was spending an extra year getting a second degree in English.
"My project is the usage of the Fantasy genre as a balm to the mind-in-crisis in Victorian England. I am writing about how the Fantasy genre offers one of two regressions (either to childish whimsy [ARISE] or to hedonist decadence [psychosexual stage regression]), as illuminated in the works of Lewis Carroll and Aubrey Beardsley. Fantasy provided such a worthwhile escape that it could encompass everything from children's literature (Carroll's work) to erotica (Beardsley's work). I did research into psychoanalytic psychology, the history of Victorian England, genre definitions and critics, and of course into the three books I specifically reference (Alice's Adventures in Wonderland, Through the Looking-Glass, and Under the Hill).
I had thought about a particular project before I applied. I was always looking for a way to incorporate the Alice books into my academic career, and this appeared to be the perfect opportunity. Taking English 399 immensely helped me prepare to write a thesis in 499.
I was forced to closely examine the literature I had selected, as well as providing the time for me to do deeper research. The Honors experience was absolutely worth the extra study. For once, I got to write about what I was interested in and what I found fascinating. The lack of structure was a little frustrating but ultimately rewarding, as I could invest myself into what I enjoyed."
Though she does not plan on publishing her work in the UMBC Review or a journal, Susan plans to attend graduate school for History.