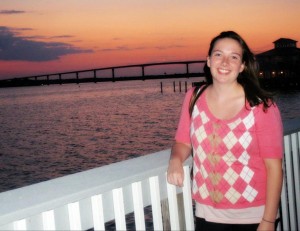 Jackie Airhart is an English and Financial Economics double major at UMBC. During her freshman year, her advisor said he saw "an Honors project in [her] future". After taking a few years off to work in contracting, she came back to UMBC and followed up on exactly what an honors project entailed:
"It took me a while to zero in on what about studying English made me happy, but one day I just knew it was poetry. Oddly enough, that epiphany occurred during a business calculus class I was taking after work. When I started back at UMBC, I remembered my advisor had mentioned the Honors Program once and so I picked up the papers in the lobby. A creative writing project seemed like a good way to be accountable and put myself under more pressure to write with a purpose.
My research component is on Seamus Heaney. I enjoy his work because it is as powerful as anything else out there, but it remains accessible to people who do not study poetry for a living. I get frustrated with poets who seem to write only for other poets. I will be thrilled if anything I write manages to emulate Heaney's skill, but my primary goal is just to produce some work that I am proud to identify as my own."
Jackie admires poets such as W.S Merwin, Dorothea Lasky, and Pablo Neruda. She is hoping to attend graduate school for English.
Final Creative Thesis
Collected Poems by Jackie Airhart
Self-Reflective Essay
"Explorations, Preoccupations, and Derivations" by Jackie Airhart
Critical Essay
"Seamus Heany: The Political Poet" by Jackie Airhart